S1E11 - Namegivers, not Nametakers
1 year ago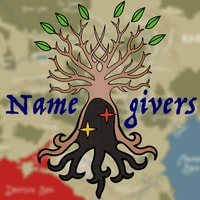 Weeks have passed and the adepts arrive at their apparent destination in the Caucavic Mountains. Now they might finally get some answers about the purpose of the mysterious rune beacons.
The Namegivers podcast is a casual Actual Play podcast of an Earthdawn campaign. Learn more about Earthdawn at https://fasagames.com/earthdawn-whatis/
The cast in this episode includes:
Lindstadt, the Windling Nethermancer: Noah
Fe'Ankrah, a Troll Swordmaster of the Spear Dancing School: Kirsten
Navith, a Windling Beastmaster and "Party Planner" (Questor of Floranuus): Pam
Game Master: Rob
Credits
Music from https://filmmusic.io "Rise Up Stand Up" by Alexander Nakarada (https://www.serpentsoundstudios.com/) License: CC BY (http://creativecommons.org/licenses/by/4.0/)
Earthdawn is a registered trademark of FASA Corp and used without license. Any use of FASA trademarks or copyrighted material is not intended as a challenge to those trademarks or copyrights.
More about Earthdawn: https://fasagames.com/earthdawn-whatis/
This podcast is powered by Pinecast.